LENGTHENING OVER NAIL
During the 1st stage of the surgery, an intramedullary nail is inserted into the bone and an external fixator device is attached to the leg from outside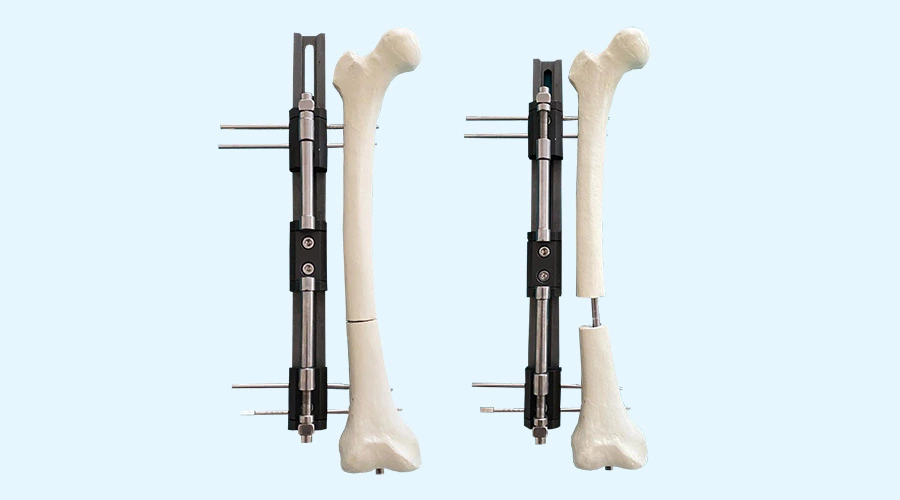 During the lengthening period, the intramedullary nail prevents angular deformity. When lengthening is completed, the external fixator can be removed with the completion of the internal fixation (screw insertion). This method was a groundbreaking development compared to the original method that only involved the use of an external fixator. Even today, many limb lengthening surgeons worldwide use this method.
How many centimeters can I gain with leg lengthening surgery ?
For cosmetic reasons, it is preferable not to lengthen over 6-8 cm per segment. We believe that safety needs to come first. There is no point in trying to lengthen 10 cm per segment. If a patient desires to lengthen 10-14 cm, it is preferable to do 5-7 cm on tibia then 6-8 cm on femurs independently rather than to lengthen 10 cm on one section. The flexibility of your legs is also important. The more flexible your legs are, the more relaxed you will be during the lengthening.
Can I get back my pre-surgery health?
Although this is an operation method, it is completely a cosmetic method. Limb lengthening procedure may take some time, but eventually you can get back your pre-surgery health and do sports that you want. For many sports types, you may have to wait up to 1 year after recovery. The key is to be patient, stick to the instructions of your doctor, do your exercises and care about your overall health.
How many scars are formated on the legs after surgery?
It is equivalent to the conventional methods in terms of postoperative scars. While some people are disturbed by the scars, others find them too little to worry about. Nevertheless, those who want can get rid of scars with the help of a plastic surgery.
When do I return to my daily life after surgery?
You will get rid of the device in 2-3 months, get well in 4-5 months, return to normal life in 6-7 months. Of course, it depends more on your muscles, nerve structure, flexibility of your leg and the exercises you must do in the process.
Can I walk with a device on my legs?
You can walk at home or get out to walk with devices on your legs. It is advisable to walk as long as it is not too extreme. At the same time, you can also do your works that you do not need much to stand up.
What are the difficulties of this surgery?
You will be in bed the first day. 2nd day you can use walker and do your needs. Depending on your situation you will spend 5 days at the hospital. You have to be patient for the first two months after the operation. Because every day you will be 1 mm longer. With time, there may be tension on your legs. But this is temporary. After the lengthening is over, the pain is reduced and the tension ends..
Is any kind of preparation needed before leg lengthening operation?
It is recommended to do stretching exercises, go swimming etc. in order to increase the flexibility of leg muscles. Besides physical preparation for surgery, it is equally important to prepare yourself psychologically.